Work Integration Social Enterprises and supported employment [editar]
The ACCEDER Group is a network of social enterprises which was set up as a result of the work done in the framework of the Acceder Programme since 2000.
Besides offering quality services, the enterprises in the network act as a stepping stone into mainstream employment for people who face significant barriers to work
The enterprises offer a supportive and inclusive workplace environment, which allows the gradual acquisition of social and professional skills.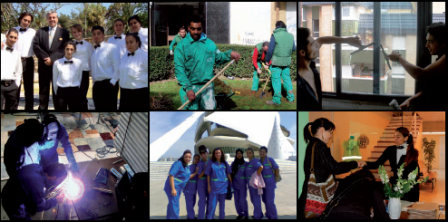 Work integration social enterprises allow us to provide services in market sectors where we have ample experience delivering vocational training and that are very much in line with what the labour market demands and the competencies of people who take part in the Acceder programme.
There are 4 enterprises within the network, based in Asturias, Madrid, Navarra and Castilla y León, as well as a nationwide supported employment programme.

Vedelar offers a wide range of different gardening and forestry services. It employs 12 people.
Uzipen offers refurbishment, maintenance and cleaning services.

Nabut offers a wide array services, including commercial laundry services, transport services, and distribution and sale of workwear and office supplies.
Ecotur is a dynamic, efficient and modern hostess agency attending a wide range of events and offering nationwide services. It constitutes a great opportunity to give visibility to a not very known side of the Roma community. In 2016, more than 30 hostesses worked at Ecotur.

These enterprises offer the opportunity to access specific training and to advance in the knowledge of different professional profiles that respond to the particular interests and particular constraints of the Roma community in general and of the youth in particular.