Our work in employment[editar]
At the Fundación Secretariado Gitano we believe that employment can be a key element in achieving social inclusion. We focus on the development of actions that have an impact on improving employability, accessing to the labour market and breaking down the barriers faced by the Roma population in their incorporation into employment.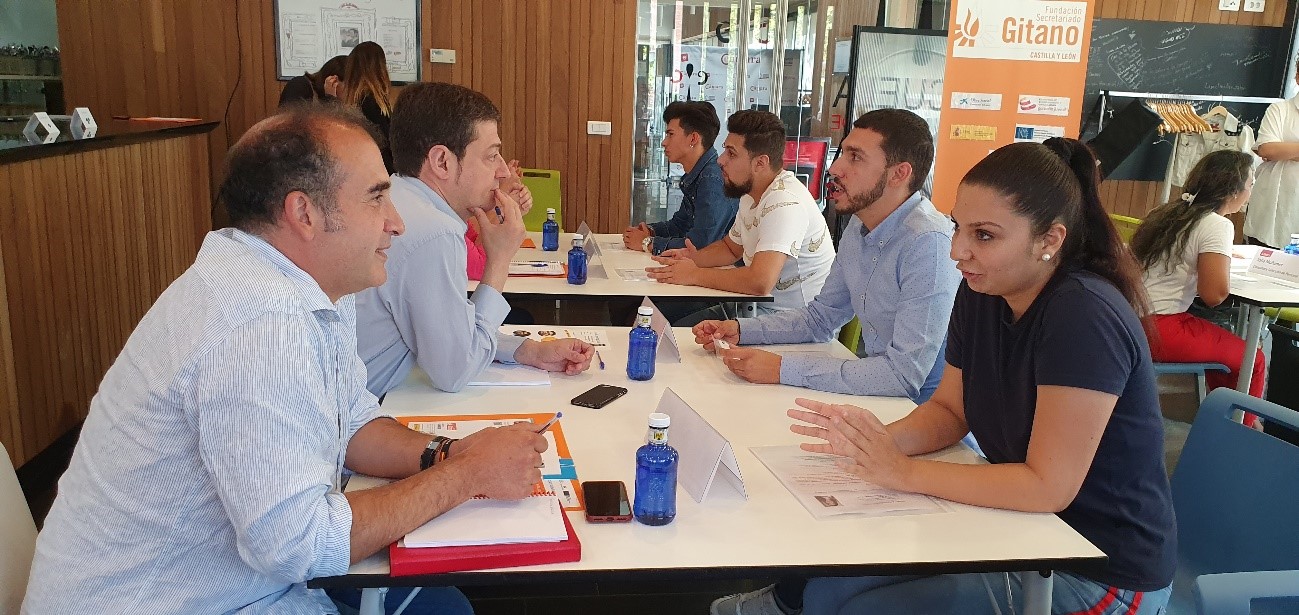 Day of simulation of selection interviews with collaborating companies in Valladolid


We carry out a comprehensive intervention that includes the development of individualised employment pathways, training courses and intermediation actions with companies, as well as the creation of studies and publications, the accompaniment at self-employment pathways and the strengthening of street trading, the promotion of insertion companies in the field of social economy and the implementation of awareness-raising and technical assistance actions.
Our work is articulated around three major lines of intervention:
Direct intervention with the Roma population, with the specific objective of improving their conditions of employability. It is always developed in an inter-cultural context, through interventions aimed at and with the direct involvement of Roma and non-Roma persons.
Intervention of an institutional character aimed fundamentally at giving impetus to more active social policies oriented to improving the living and working conditions and to providing solutions to the problems and disadvantages of the Roma population.
A permanent effort to raise awareness of society as a whole and of stakeholders involved in the labour market with a view to facilitating the disappearance of any type of discrimination towards Roma persons in their access to training and employment.
We develop integrated and multidimensional interventions to promote the social inclusion of individuals, whereby we look to achieve an impact on the social environment, the family context, the labour market, detecting possibilities of alliances and collaboration to this purpose.
ANNUAL REPORTS INFOGRAPHICS ON EMPLOYMENT