For the Fundación Secretariado Gitano, achieving the incorporation of persons in situations of disadvantage into employment is key to the fight against social exclusion and discrimination. For this reason, we situate ourselves next to the persons, seeking responses to their needs and facilitating their access to the labour market.
Employment, a gateway to social inclusion
Roma persons want and can work, and merely need to be afforded the adequate conditions for it. We can make this affirmation on the basis of our daily work over 30 years.
The Roma population experiences a specific situation of inequality and disadvantage, which require specific compensatory responses. The latter, however, must always lead to mainstreaming in different social fields, including labour.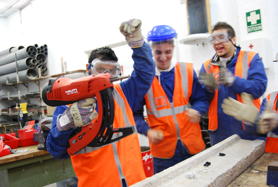 Access to the labour market constitutes the best – if not the only – way to achieve a greater degree of personal autonomy and participation.
Explore