Intervention model[editar]
The Acceder programme has developed a methodological model that has a proven track record at ensuring the social and labour inclusion of Roma persons via flexible, dynamic, and personalised employment itineraries.
METHODOLOGICAL MODEL OF ACCEDER
The Acceder Methodological Model is based on the adaptation of success factors to the specificities of the Roma population, by giving a response adapted to the training and labour insertion needs of this community. It is structured around three fundamental approaches:
Individualised approach, materialised in personal insertion itineraries designed from an initial diagnosis of employability.
Mainstreaming approach, following criteria of normalisation, the involvement of the Roma community, interculturalism and complementarity with the rest of society's resources and public goods.
Multidimensional approach, through direct interventions with the Roma community itself, institutional action for the promotion of social policies, and awareness-raising both of agents intervening in the labour market as well as the society as a whole.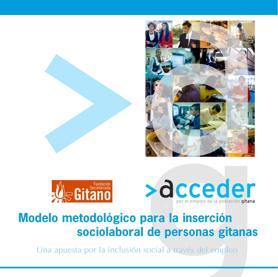 Methodological model of the Acceder Programme
We apply a methodology that involves a broad range of aspects: from orientation related to labour market opportunities, to the practice of labour skills, without forgetting social skills for employment, and always taking into consideration the situation and needs of the Roma population and working from empathy and concrete interests, reconciling them with the needs and requirements of the labour market at a particular point in time (skills and abilities required to access and keep a job; labour situation in the distinct sectors of economic activity…).

Employment workshop on social and health care to persons in situations of dependency (León)
This methodology also involves the development of complementary measures of positive action to promote equal opportunities, which has allowed for instance the participation rate and, subsequently, the employment rate of women involved in the programme to be very high.