[editar plantilla]
2018 has been the first year of implementation of our new Strategic Plan 2017-2023 and, therefore, our activity has been reinforced in traditional areas such as employment, education or the fight against poverty and social exclusion, promoting new initiatives and innovation programs; In parallel, new approaches have been incorporated that contribute to providing a more comprehensive response to the Roma people with whom we work, through political advocacy, the fight against discrimination, the introduction of the rights approach and a strong drive to promotion of interculturality and participation.
2018 IN FIGURES
In 2018 we have worked directly with more than 30,000 people through the 549 projects carried out in the more than fifty cities of the 14 Autonomous Communities where we carry out our activity, to which we must add our European projects.
This activity is developed thanks to the commitment, effort and professionalism of a human team of 828 people, 29% of them Roma professionals; To these we must add the support of more than 381 volunteers who collaborate with the Fundación Secretariado Gitano.
828 employees (29% are Roma) 

381 volunteers 

549 programmes in 77 locations across 14 Regions of Spain

30,140 direct beneficiaries

126,716 participants in FSG programmes and activities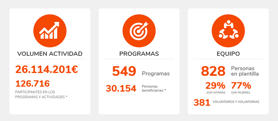 SOCIAL PROMOTION

Education

Promociona demonstrates year after year that Roma students want and can study. In 2018, 67% of the students promoted in Primary education level and 50% of the students in Secondary education level managed to pass the course with all the subjects approved. In addition, 180 male and female students, 81% of the Promociona students in 4th of ESO, managed to graduate. In addition, 87% of them subsequently enrolled in post-compulsory studies.

Employment

In 2018 we obtained 6,181 work contracts in the Acceder programme. In addition, the qualification and employment opportunities of 4,858 people have been improved through the 976 training actions that we have launched.
In the field of employment, our firm commitment to youth and innovation stands out through initiatives linked to the digital transformation of the labor market.
In its 6th edition, the Learning by doing programme, aimed specifically at Roma youth, has trained 630 young people in 4 different sectors with the collaboration of 29 companies. In addition to job placement, the educational return of many boys and girls has been achieved.

Poverty and exclusion

During 2018, 7,624 people were served (70% of them women, and 532 Roma): 5,358 families on basic social issues, 657 on housing-related issues, 340 families have been accompanied in their access to decent housing In an integrating context, 1,468 people have participated in health promotion actions.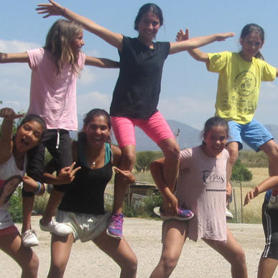 Advocacy
Equality

This year 2018 we continue working to advance and promote the exercise of real equality for Roma people, making it essential to tackle the fight against discrimination. Strengthening and promoting the complaint and strategic litigation before the courts.

Political Incidence

Throughout 2018, our advocacy strategy has revolved around: defending the right to education; approval of a Comprehensive Law on Equal Treatment and the Fight against Discrimination; incorporate a specific category of anti-gypsyism within the framework of the hate speech monitoring project in the European Union; and deploy intense advocacy activity in spaces linked to international and European organizations, such as United Nations Committees or Council of Europe.

International

One year later we have carried out intense political advocacy and institutional action in Europe to advance in guaranteeing the rights of the Roma population, promoting inclusion, equality and non-discrimination. And we have done it working together with the European institutions, mainly with the European Parliament and with the European Commission, as well as with public administrations of various Member States and third sector entities.

Awareness-Raising actions

In 2018 we have developed two new awareness campaigns: "I don't want a segregated school" and "Gypsy Lesson" and we continue, from our territorial headquarters, with the dissemination of the previous year's campaign "Starting from scratch".
Online communication is increasingly relevant in the dissemination of our campaigns and in the day-to-day of communication, especially on social networks where we already have more than 50,000 followers.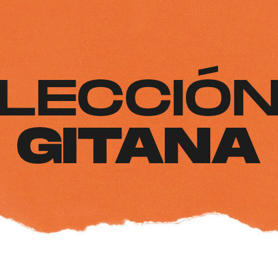 Participation
In 2018 we supported 53 young Roma from different Spanish regions, we organized reflection and debate workshops, as well as 29 participation actions that have been stimulated by the young people themselves together with the FSG teams. Socio-community participation at the local and regional level and raising awareness of children's rights in collaboration with the Platform of Children's Organizations have been the main themes. Around them, 943 people have been involved, 388 of them were Roma children and adolescents.

Also in this year we launched Dialogues for Interculturality is a space for debate and reflection that aspires to become an annual event to value intercultural dialogue and relationships, as well as the recognition of cultural diversity as a factor of development.

Volunteering

In 2018, 381 volunteers participated in our activities. Their support and solidarity has been fundamental in school reinforcement activities, accompaniment to employment and support in access to people's basic needs, fundamentally.

Thanks to the volunteers who collaborate with us, we have managed to achieve a key objective for the Fundación Secretariado Gitano: to create spaces for successful intercultural and intergenerational coexistence.