[editar plantilla]
Discrimination is overwhelmingly considered as the most important barrier to social integration and participation in conditions of equality before the law.  Negative majority perceptions of ethnic minorities and immigrants, often correlated with xenophobia and racism, generate strong impediments for the labour market integration of the latter.
Yet illegal or migrant status does not constitute the primary factor for the vulnerability of minorities to discrimination and human rights violations. The case of the Roma population illustrates the central relevance of the concepts of ethnicity or race in determining discrimination patterns, rather than migration per se. Indeed, the Roma continue to form the minority group experiencing the greatest degree of discrimination and rejection by the majority population throughout the EU, according to a 2019 Eurobarometer . In this sense, a significant majority of people (66%) in the EU whose skin colour, physical appearance and dress are different from the majority population are perceived, and perceive themselves to be subjected to widespread discrimination, independently of their legal status. The FSG publish annually a the Discrimination and Roma community report  where all the cases reported at our service are registered, but this is the tip of the iceberg. You can find here the 2019 report and all our reports.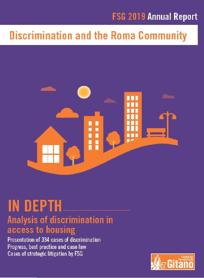 Ethnicity, along with other elements such as cultural distance, religion, gender and social class, may thus be considered the key variables that affect discrimination towards Roma. These variables can shape – by aggravating or alleviating – discrimination on ethnic or racial grounds. There are, however, indications that prejudices and stereotypes, accompanied by public decisions, especially at the municipal level, and discriminatory or racist discourses in the media, entrench negative perceptions and prejudices towards Roma, which is therefore the ethnic group suffering the greatest perceived level of discrimination in the EU, along with North African Muslims.
Discrimination towards Roma occurs in varied areas such as the access to remunerated employment, to rental housing, to public health and other public and private services, as well as in education. In some countries, including Spain, substantial progress has been observed in the majority population's behaviour, which is related to improvements in the integration of the Roma population, fostered in part by active desegregation policies and civil society mobilisation in favour of equal opportunities for Roma since the 1970s. Nevertheless, the recent phenomenon of Roma migration from Eastern European countries, particularly from Romania and Bulgaria, contributes to reviving stereotypes and intensifying discriminatory practices towards Roma. Many Roma thus continue to experience discrimination on a daily basis.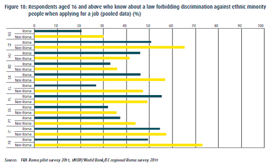 Key surveys have shown that:
Close to half of the Roma surveyed said that they have experienced discrimination in the past 12 months because of their ethnic background;
Around 40 % of the Roma surveyed are aware of laws forbidding discrimination against in 2009,
EU-MIDIS (EU Minorities and Discrimination Survey undertaken by the FRA) data showed that one in five of the Roma surveyed reported discriminatory experiences when looking for work.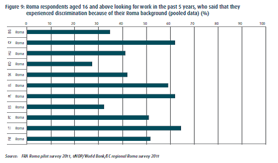 BACK TO MAIN 'ROMA COMMUNITY' PAGE'