[editar plantilla]
Roma poverty and exclusion[editar]
The Roma population is characterised by a significant degree of heterogeneity between and within countries, between urban and rural areas, between and within cities/towns. The European Commission thus  proposed the following four major categories of Roma communities:
those living in disadvantaged, highly concentrated (sub)-urban districts;
those living in disadvantaged parts of small cities/villages in rural regions and in segregated rural settlements isolated from the majority;
Mobile Roma communities with citizenship of the country or another EU country and
the mobile and sedentary Roma who are third-country nationals, refugees, stateless persons or asylum seekers.[i]
Notwithstanding this diversity and with the exception of specific Roma groups and individual cases, a very high proportion of Roma persons are affected by extreme poverty and social exclusion, especially in some countries. The FRA estimates (2012) and (2017) that 90 per cent of Roma in those Member States with the largest Roma populations are living in or at risk of poverty, while circa 80 per cent of Roma experience severe material deprivation. The Roma remain one of the most marginalised social groups in Europe, facing deep social problems manifest in:
low levels of schooling and formal qualifications,
high unemployment and precarious employment,
inadequate housing and
poor health.
All of these factors are interrelated and generate a vicious circle of social exclusion. These social problems coincide in reproducing Roma poverty and exclusion in the majority of the localities where they live and present significant challenges for public authorities in their efforts to build social and territorial cohesion.
Crucially, the gap between Roma communities and the majority population has been growing significantly in many countries in the past two decades, and substantial progress in improving the living conditions and opportunities for the overwhelming majority of Roma remains limited across the EU. This situation is worsening due to the current economic crisis and the growth of racist discourses and movements, thereby intensifying the difficulties encountered by municipalities in achieving cohesion and positive intercultural models.
The vicious circle of the intergenerational transmission of poverty and social exclusion is primarily determined by:
the lack of guarantee and exercise of rights,
persistent and wide-ranging discrimination activated by growing racism by the majority of the non-Roma population,
spatial segregation,
lack of access to services and
the absence of consistent policies aiming to revert these trends.
The percentage of the European Roma population under 18 is estimated to reach 50%, with high birth rates, in most areas of the EU. The demographic weight of the Roma population and the fact that it includes such a large proportion of young people and children, combined with historically conditioned high poverty rates and dismal living conditions for a majority of Roma, render efforts aimed at breaking the inter-generational transmission of poverty and severe social exclusion all the more urgent to allow for the EU to unleash the energies of a youthful and dynamic population, and to achieve social cohesion and sustainable development.
In this light, as emphasised by the World Bank, investing in Roma is the smart choice to make in order to unleash the human energies required to achieve higher economic development, enhanced social cohesion, and indeed more constructive politics at the local level, in an adverse context of ageing populations, economic decline and the growth of extreme right-wing movements and antigypsyism.
---
[i] However, this sociological classification may be qualified by the categorisation of three further Roma groups: a significant proportion of Roma engaged (in some cases over several generations) in a process of socio-economic integration and living in high density, ethnically de-concentrated urban zones; a small, highly educated and highly integrated Roma business, administrative and intellectual elite; and an artistic elite promoting Roma identity and culture. Crucially, Roma are as diverse as society is and we cannot affirm that some forms of living or understanding the Roma culture are more relevant than others, but merely that some forms are more frequent than others.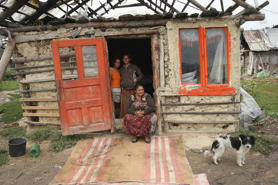 BACK TO MAIN 'ROMA COMMUNITY' PAGE'