"Roma Families Get Involved"[editar]
"Roma families involve themselves: transnational methodology to work with Roma families to achieve the success of their children in the education system"
The general objective of this project, that involves institutions from 4 countries (Spain, Romania, Bulgaria and Hungary) is to create a methodological tool to work with Roma families with the aim of reducing early school leaving rates among Roma children, especially in primary education.
There are also several specific objectives:
Create a transnational platform for the exchange of technical experience and knowledge among highly qualified professionals working with the Roma population in the field of education.
Analyse the different work strategies with Roma families in the different countries to identify the ones achieving the greatest impact.
It is intended to contribute, through recommendations and practical tools, to improving the educational situation of Roma children by gathering specialised professionals with longstanding experience in this field. The development of this methodological tool intends to address a very sensitive and relevant aspect of the educational process of all children, including Roma: the involvement and support of their families.
With this objective, the Project is fully aligned with the Europe 2020 Strategy and the National Roma Integration Strategies, and more concretely their objective of reducing the school dropout rates of Roma children, and of achieving their permanence in school, at least through primary education.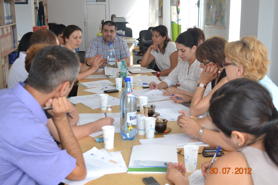 "Familiile romilor se implică: metologie transnațională de lucru cu familiile de romi pentru realizarea succesului școlar al copiilor lor"
Obiectivul general al acestui proiect in care sunt implicate instituții din 4 țări (Spania, Romānia, Ungaria și Bulgaria) este să creeze un intrument metodologic pentru a lucra cu familiile de etnie roma cu scopul de a reduce ratele abandonului școlar timpuriu, īn special īn școala primară.
Există și o serie de obietive especifice:
1. Să creeze o plaforma transnațională pentru schimb de experiențe și cunoștințe tehnice īntre profesioniști cu īnaltă calificare care lucrează cu populație romă īn educație.
2. Să analizeze diferențele strategice de lucru cu familiile rome īn diferite țări, pentru a le identifica pe acelea cu un impact major.
Se dorește să se contribuie cu recomandări și un instrument practic pentru a īmbunătăți situația copiilor romi īn materie de educație, prin implicarea unor profesioniști cu amplă experiență īn domeniu. Dezvoltarea acestui instrument metodologic are ca scop abordarea unui aspect foarte sensibil și relevant īn cadrul procesului educațional al copiilor romi sau a oricărui alt copil: implicarea și sprijinul din partea propriilor familii.
Prin acest obiectiv, proiectul de este pe deplin aliniat Strategiei 2020 și Strategiilor Naționale pentru Incluziunea Populației de Etnia Romă și īn mod concret obiectivului său de reducere a ratelor de abandon școlar timpuriu și participarea copiilor romi cel puțin īn educația primară.
← BACK TO RUMANIA's MAIN PAGE