FSR, entity created by FSG in Romania[editar]
Fundatia Secretariatul Romilor (FSR) was created in Bucharest, Romania, in late 2009 by the FSG in order to directly manage programmes aimed at the improvement of the living conditions of the Roma population in Romania.
Fundația Secretariatul Romilor (FSR) a fost creată în București, la sfârșitul anului 2009, de către FSG, pentru a gestiona în mod direct programe pentru îmbunătățirea condițiilor de viață ale populației de etnie romă  în România.
The Roma community in Romania
It is estimated that more than two million Roma persons live in Romania, representing close to 10% of the total population and constituting, with Bulgaria, the largest proportions of Roma in any country of the EU. The situation of this group is characterised by poverty, social exclusion and discrimination, and a significant gap exists between Roma and the majority Romanian population: lower educational levels, higher unemployment rate, etc.
Since the accession of Romania to the EU in 2007, there has been a multiplication of the financial instruments destined to address these situations of grave inequalities, while a specific state organism has been set up to address Roma issues: the National Agency for Roma (NAR). However, there is no clear political will to implement public measures purposely improving the living conditions of Roma. A clear manifestation of the lack of progress is the persistence of situations of severe poverty and marginalization, and the constant emigration of a large proportion of the Roma of Romanian citizenship to other EU countries in search of a better life.
The Structural Funds, in particular the ESF and the ERDF, can play a fundamental role in breaking the generational reproduction of poverty, exclusion and discrimination experienced by the Romanian Roma population. This would be possible if EU funds were used in an efficient and effective manner, focusing on priority fields of intervention to generate social change: employment, education, housing and health. In late 2011, the Romanian government approved its National Roma Integration Strategy, as mandated by the Communication of the European Commission on an EU Framework for National Roma Integration Strategies, which established, for the first time, a common framework for the development of measures and policies at the national level on the basis of approaches, objectives and areas of work shared by all EU Member States. Such a framework offers a great opportunity to produce substantial change in coming years.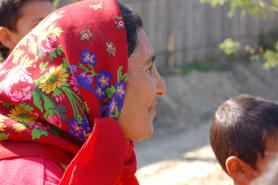 Comunitatea romă în România
În România se estimează că locuiesc peste două milioane de romi, ceea ce presupune 10% din totalul populației și cel mai mare procent ale populației rome într-o țară a UE. Situația acestei populații se caracterizează prin sărăcie, excludere socială și discriminare, existând un decalaj seminificativ cu totalul populației generale: nivel de educație mai scăzut, o rată mai mare a șomajului, etc.
De la aderarea României la UE în 2007, s-au multiplicat instrumentele financiare destinate abordării acestor situații de inegalitate gravă, și în același timp a fost creat un organism statal specific pentru problema romilor: Agenția Naționala pentru Romi (ANR). Totuși, nu există o voință politică clară pentru a aplica măsuri publice destinate îmbunătățirii gravei situațiii pe care o suferă această minoritate. O dovadă în acest sens este persistența situațiilor de sărăcie extremă și marginalizare și constantul flux migratoriu al unei părți importante ale românilor de etnie romă către alte țări ale UE în căutarea unei vieți mai bune.
Fondurile structurale, în speciale FSE și FEDER, pot juca un rol fundamental în ruperea cercului generațional de sărăcie, excludere și discriminare pe care îl suferă populația romă. Acest lucru ar fi posibil dacă aceste fonduri   s-ar folosi în mod efectiv și eficient, centrându-se pe domenii prioritare pentru a obtine schimbarea socială: ocuparea forței de muncă, educația,  locuințele și sănătatea. La sfârșitul anului 2011, Guvernul român a aprobat Strategia Națională pentru Incluziunea Romilor, așa cum stabilește Comunicarea Comisiei Europene asupra Cadrului Uniunii Europene (UE) pentru Strategiile Naționale de Incluziune a Populației Rome până în 2020, în care se stabilește pentru prima dată un cadru comun pentru dezvoltarea de măsuri și politici la nivel național pornind de la abordări, obiective și zone comune de lucru pentru toate Statele Membre ale UE. Este o măsura importantă pentru a obține schimbări reale în anii următori.
← BACK TO RUMANIA's MAIN PAGE