The Fundación Secretariado Gitano (FSG), together with the photographer Eva Parey, were awarded with
Premio Revela
(Revela Prize), for jointly presenting the photographical project 'Nómadas a la Fuerza' ("Forced Nomads") and also a project of social intervention related to Romanian Roma community reflected in the photographical project.
Fundación Secretariado Gitano (FSG) împreună cu fotografa Eva Parey au primit Premiul Premio Revela, după ce au prezentat în comun proiectul fotografic  'Nómadas a la Fuerza' ("Nomazi forțați") și un proiect de intervenție social legat de problemática populației române de etnie rome refléctate în cadrul proiectului fotografic.
The intervention model is based on the Promociona programme but with modifications.
The project includes the academic monitoring and support of Roma children to ensure their assistance at school, and the provision of additional tutoring to those students who require it or show outstanding potential , as well as mediation with the families with a view to transmitting to them the importance of their children's schooling.
The visual coverage of the project includes a photographic series compiling the activities developed by the FSG in the school, with the children and their families, as well as the environment in which children grow; and a multimedia documentary registering the impressions and perceptions of some children and their families, both at the beginning and at the end of the project, in order to compare the expectations and the results achieved, and to realise a more faithful evaluation on the basis of the opinions of beneficiaries of the project. 
Roma students of the Boldesti village in Romania, in the final cycle of primary and secondary education, as well as their families are the beneficiaries of this project.

More on Eva Parey
Eva Parey (Barcelona, 1971) is a freelance photographer established in Barcelona and specialised in reportages of a social and itinerant character. She combines her photography projects with teaching and specific contracts.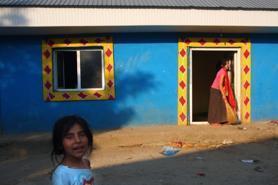 Modelul de intervenție are la bază programul Promociona, dar cu unele modificări.
Proiectul implică monitorizarea școlară a copiilor romi pentru a asigura prezența lor la cursuri și  educație remedială pentru acei elevi care au nevoie sau care se remarcă prin performanțe, precum și medierea cu familiile pentru a le transmite importanța școlarizării copiilor lor.

Acoperirea vizuală a proiectului include o serie de fotografii care reflectă activitățile desfășurate de FSG în școală, cu copiii și familiile lor și  mediul în care se trăiesc copiii, precum și un documentar tip multimedia care înregistrează impresiile și percepțiile unora dintre copii și familiile lor, atât la începutul proiectului, cât și la final, pentru a contrasta așteptările  cu rezultatele și a putea face o evaluare cât mai exactă, în baza opiniilor persoanelor asistate.
Beneficiarii acestui proiect sunt elevi romi din satul Boldești (România), școala primară și gimnaziu, precum și famiile lor.
Mai multe despre Eva Parey
Eva Parey este fotograf freelance stabilită în Barcelona, specializată în reportaje cu caracter social și de călătorie. Îmbină proiectele fotografice cu activitatea academică.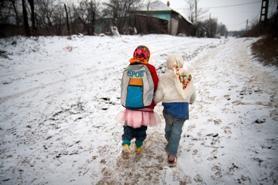 ← BACK TO RUMANIA's MAIN PAGE