Our work with Roma youth[editar]
From the FSG believe that to stimulate social participation of Roma youth is an essential task as it facilitates the process of social integration, facilitating them to begin to enter the social game and access resources and standardized services for youth participation . And in this sense, it pays special attention to young Roma women, who by their specific of gender and culture, have greater difficulty in accessing resources and opportunities.
Youth area
With this goal comes the Youth Department at the FSG in July 2000, under the I Cooperation Agreement with the Institute of Youth (Injuve). The department was born with the fundamental objective of promoting and facilitating social participation and to energize Roma youth, based on recognition of their cultural identity and taking as active exercise of full citizenship (understood as responsible for participation exercise in which rights and duties are assumed).

This project takes shape from the implementation of a network sharing to facilitate spaces where young people can meet, reflect on their role in society and the Roma community, and also perform those activities deemed of interest.
Until now a Network of Information Services and Youth Revitalisation it has been developed ( Chavós Nebó-Youth of today Network) specifically orientated to Roma youth, which has worked from a standardization strategy, developing and placing activities and information services officially recognized by the relevant local and / or regional administrations and members of the National Network of Youth Information Services of the Injuve.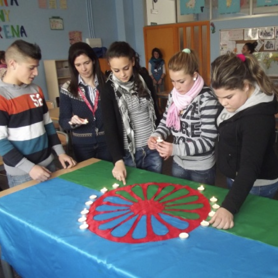 Roma young women, because of gender and culture have more difficulties in their access to resources and opportunities.
"Chavós Nebó Network - Youngsters of today"
Nowadays, the Chabós Nebó network- younsters of today has 28 centers across Spain.
Besides, from the youth area of FSG a counseling service and technical assistance is offered for a varied public target: public adminsitrations, youth asociations, young Roma, professionals etc... We inform about topics related with Roma youth, mediation, youth participation, asociations constitution both at internal and external ambit.